| | |
| --- | --- |
| | |
Two Time Winners of the Cariboo/Chilcotin/Coast Tourism Marketing and Service Awards!

Winner of BC Living's 2012 People's Choice Award - Best Cafe in Northern BC!

For Sixteen years The Bear's Paw Dinner Cafe has set the standard for food service in the Cariboo.

Hosts Dave Jorgenson and Cheryl Macarthy have designed a restaurant, a menu and a mood that is relaxing, friendly, and exceptional. We've been evolving and refining our menu for 16 years now and it's approaching perfection! In 2013 we've expanded again. We've introduced more Organic Foods, and containers, Frog-Friendly Coffee, and are now completely Green Energy Powered through an electrical agreement with BullFrog Power. We're introducing a wide variety of cool and unique gifts that reflect our themes of food, the outdoors, and music. We're constantly adjusting our micro-brew beer collection, BC wines, and selection of great Scotch! We've introduced new non-alcoholic drinks like the Bear's Paw Fizz and the Tropical Frog! Some things are too good to change, so our Amazing Rib Dinners and Fabulous Thai Noodle entrees are still to be found. Now we've added a tapas menu, so you can build the meal you want from all of your favourite parts!


In addition to providing food that is exceptional in its quality, presentation, and taste, the Cafe is also alive with music events, has a great gift item selection, and features an outdoor theme consistent with its setting in a once booming gold mining town, deep in the Cariboo wilderness. We are the source for information about the region, its people and its events. Our expansive, licensed patio provides beautiful outdoor seating. We're so happy to see you we're giving out gifts just for coming! The Bear's Paw is more than a dinner cafe . . . It's an experience.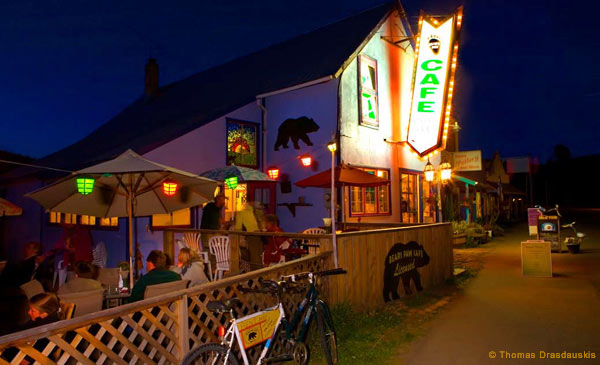 Rated "excellent" by more travellers than any restaurant in the Cariboo Chicotin Coast region
The Bear's Paw Cafe
Box 206, Wells, BC, V0K 2R0
Toll Free: 1-866-994-2345
E-mail: dinner(at)thebearspaw(dot)ca
---